Winter in Winnipeg has a wonderful arc; the first snowfall is always welcomed with excitement while holiday preparations allow us to celebrate winter in a way that warms the heart without too much focus on the dipping temperatures. As mid-January and February approach, the reality of the length of winter settles in and we begin to feel the need for a little something…to make it through the cold.
Welcome these simple, classic and easy-to-make cocktails this season with a little inspiration drawn from local restaurants (easily accessible on foot when bundled up) in the Winnipeg downtown area, and in celebration of living in a climate that is worth embracing. Each beverage is a little bitter and a little sweet with a balance of cold and hot, but all warming.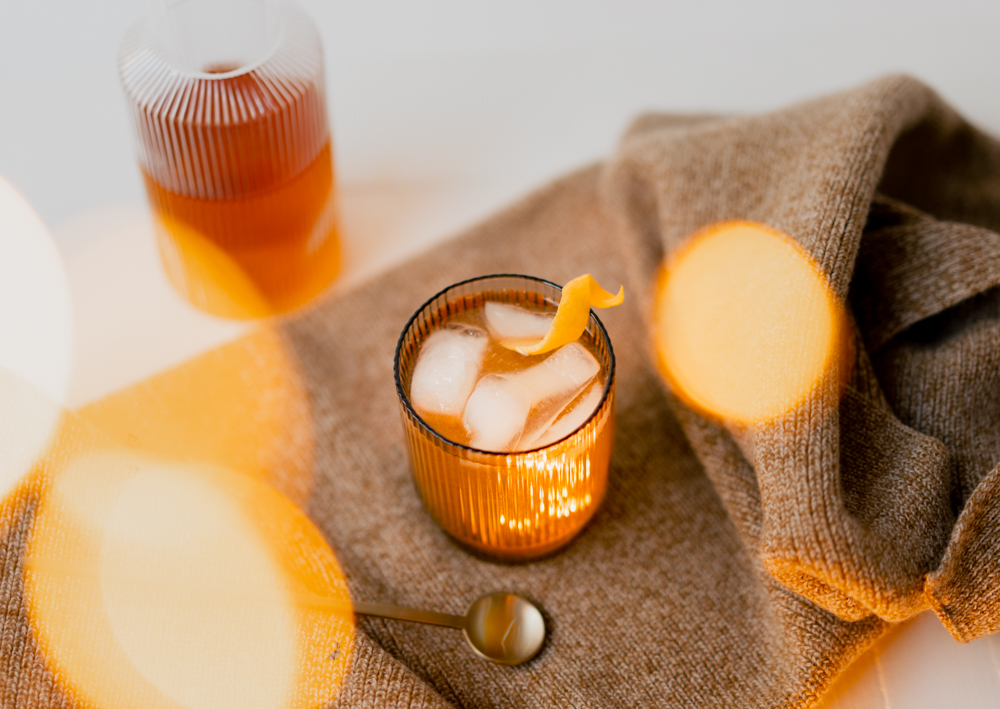 Penicillin
A cozy combination of scotch, honey, lemon and ginger, served warm or on ice. Here we serve it chilled. This smoky and spicy cocktail seems to be a bartender's favourite in the city, with high recommendations from Peasant Cookery, The Oval Room, and Amsterdam Tea Room. Another measure of the bartending community's familiarity with the potion: you can often get one at cocktail bars that don't even have it on the menu. By 2014, the Penicillin was so well known that some young bartenders assumed it was an old classic from way back.
Recipe:
2 oz scotch
¾ oz honey-ginger simple syrup (recipe below)
¾ oz fresh lemon juice
Combine all ingredients into a shaker three-quarters filled with ice and shake until chilled
Pour over ice into a low-ball glass
Garnish with a lemon twist
Honey-ginger syrup
To a small pot, combine:
½ cup honey
1 3-inch nub of ginger, peeled and slice
½ cup water
Bring to a simmer and let bubble for 5 minutes. Allow it to rest until cooled or overnight in the fridge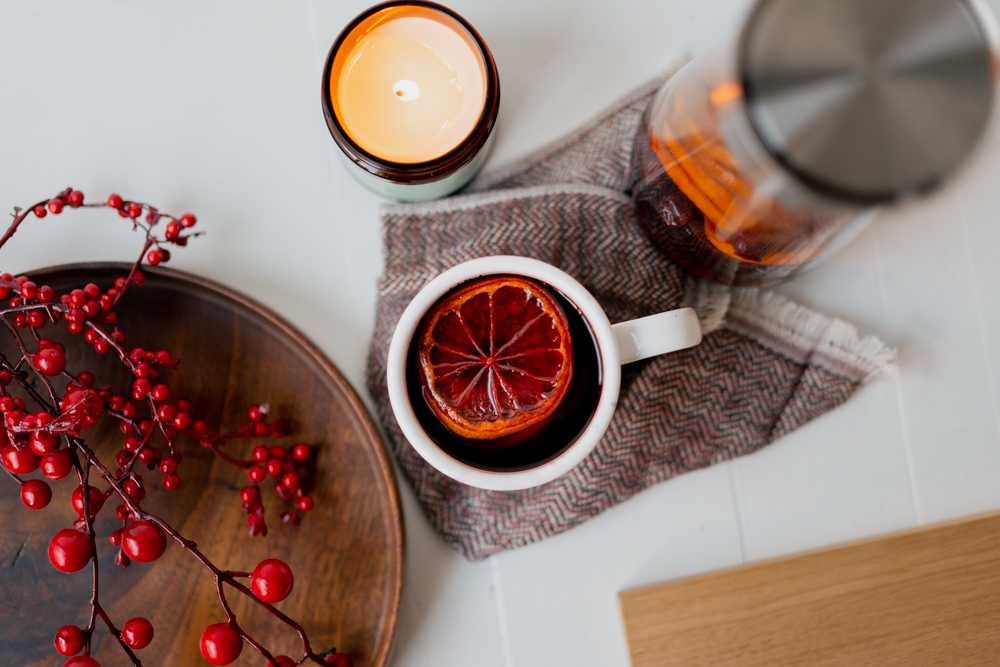 Mulled Wine
Nostalgic and warming as ever, homemade mulled wine is just about the easiest recipe for winter and holiday entertaining. Customizable with your favourite spices, citrus, berries, and liqueur, just trust that you will fill your home with amazing aromas that will warm you and your guests on a chilly evening. For a bottle of wine, a little more interesting, visit Ellement Wine and Spirits at The Forks Market, but any favourite bottle from your local Manitoba Liquor Mart will be just as delicious and full of flavour.
Recipe:
2 oranges, 1 quartered, 1 sliced (reserve a few slices for garnish)
1 bottle of red wine (merlot or zinfandel)
¼ cup brandy
2 tablespoons maple syrup
2 cinnamon sticks
3 star anise
4 cloves
¼ cup cranberries
Combine all ingredients into a pot and let simmer for 10 minutes
Serve in a heat-safe vessel. Best enjoyed outside.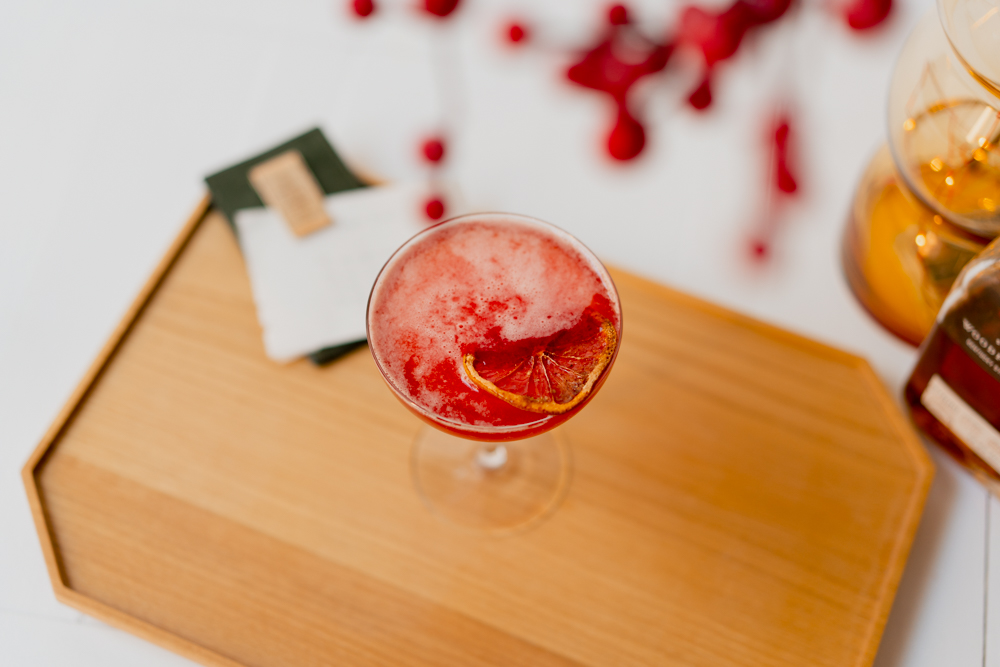 Paper Plane
Particularly popular in Toronto, found on almost every restaurant menu, the Paper Plane (sister to the Penicillin cocktail) consists of equal parts Italian bitter Aperol, amaro, bourbon and lemon juice. We substituted Campari for amaro in our recipe since it's easily found at local liquor stores and it was equally delicious and well-balanced. Garnish with a candied grapefruit to celebrate those citrus notes and to add even a little more festive flavour from the cinnamon and ginger.
Recipe
¾ oz bourbon
¾ oz Campari
¾ oz Aperol
¾ oz lemon juice
Combine all ingredients into a shaker three-quarters filled with ice and shake until chilled
Pour into a coupe glass and garnish with a candied grapefruit slice (recipe below)
Candied Grapefruit
Slice one grapefruit as thin as possible into even rounds
Place on a baking sheet lined with parchment paper and sprinkle the slices with sugar, ground cinnamon and ground ginger
Bake at 200 degrees Celsius for 2 hours, checking every so often. They should be darkened in colour but not burnt.
Hot Toddy
Think of this warming beverage as a quick and easy mulled wine that is a little more spirited with the warming notes of bourbon or scotch, sweet maple syrup and vanilla bean.
Recipe:
1 ½ oz bourbon or rye
¾ oz honey or maple syrup
4-5 oz hot water
1 vanilla bean
Combine all ingredients in your favourite mug and give it a nice stir
Garnish with a slice of lemon and a cinnamon stick