With a tagline of "No sleep, just art…", Nuit Blanche Winnipeg is a one-night celebration of contemporary arts and culture that invites Winnipeggers to explore installations and events sprinkled throughout the heart of the city.
Nuit Blanche is always on the last Saturday of September, so this year it was on September 24. It is also the start of Culture Days in Manitoba, which runs from September 23 to October 16.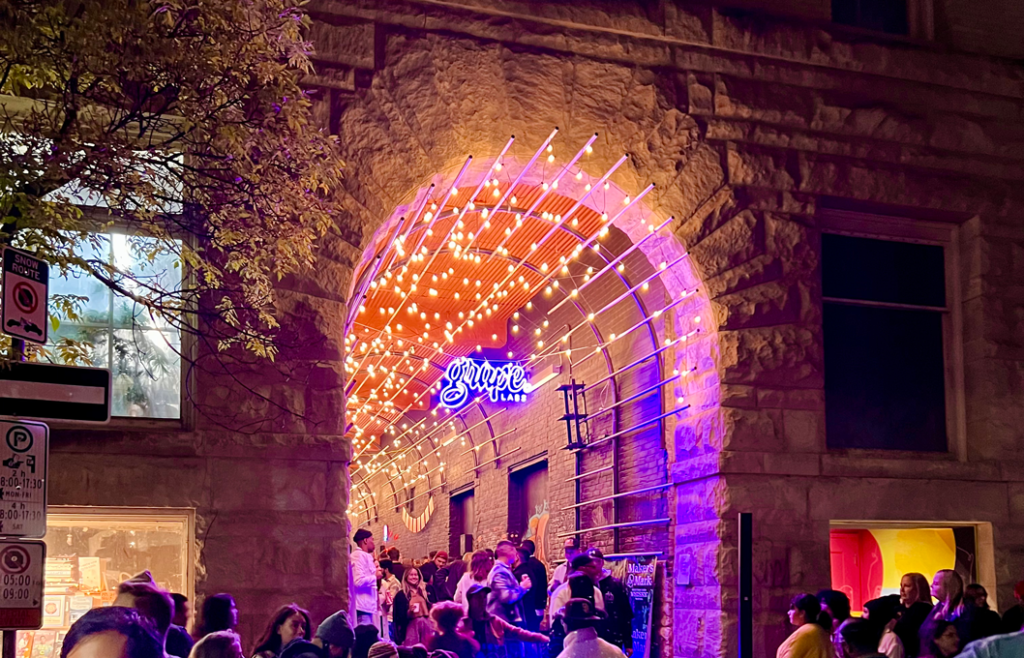 I went to my first Nuit Blanche back in 2015 and fell in love! Now, every year that the one-night-only event has run, I have led a bike tour to explore as many of the different installations as we can get to.
This year, I gathered a small group of bike and art enthusiast pals, and we hit the streets together after a lovely meal at a downtown restaurant. While a few of my group live downtown, many others had not seen downtown Winnipeg's newest apartment tower that now graces our skyline. So we made a quick pitstop to check out 300 Main on our way into the Exchange.
Located with bike lanes immediately behind the building and a bi-directional bike lane a block away, it's easy peasy to get anywhere by bike from 300 Main. It was simple to stop for a quick visit to show my pals, and from there, we used the handy bike lane on Fort Street to connect us to the Exchange and on to our adventures.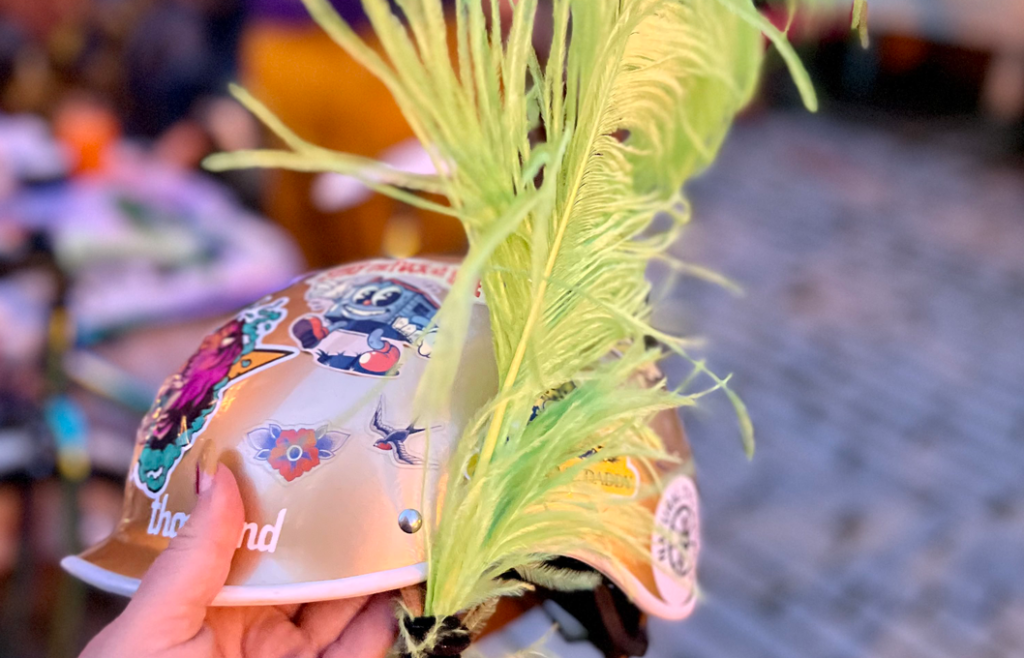 To get to our first Nuit Blanche stop, we took the Fort Street bike lane, which becomes a protected bike lane once you cross Portage Avenue. We took this to Adelaide Street, where we popped over to Arts Junktion. They were running a bike decorating spot, where you could also get your bike looked over by The Wrench. Now that our bikes and helmets were all decorated, we were ready for the rest of the night!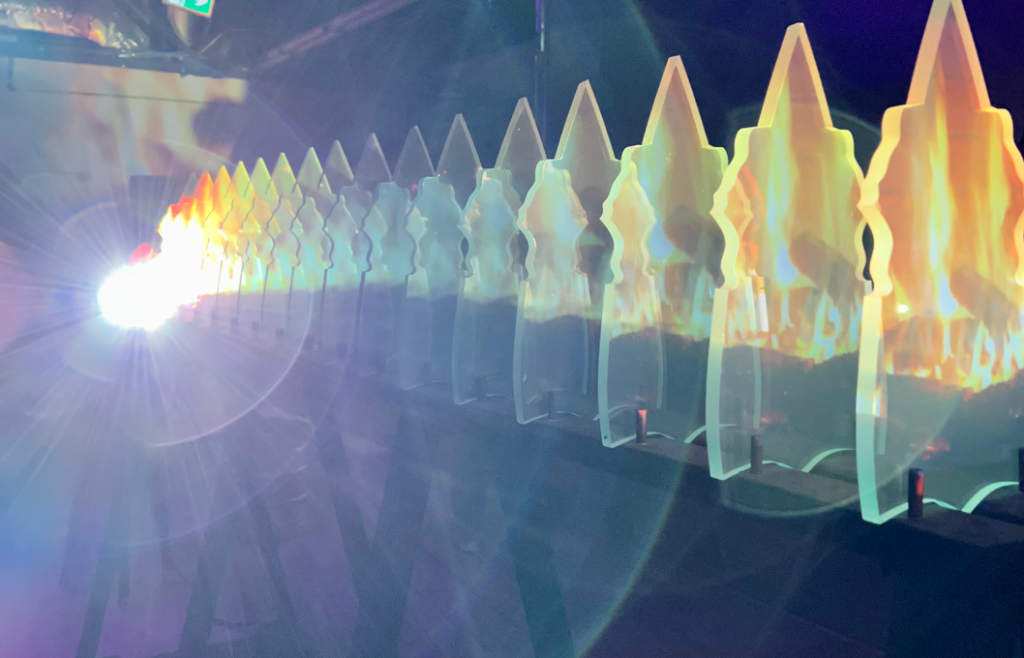 We walked our bikes to the Little Brown Jug Brewery Street party and were greeted with great tunes from DJs set up on their newly upgraded patio, food trucks along the closed street, and plenty of amazing beer. We went inside the brewery to check out their art installation, Moths to a Flame, by Warner Carther. Incorporating transparent glass and light projections, the entire space was lit up with flickering flames.
We wanted to end the night back in the Exchange, which really is the main centre of Nuit Blanche, so from Little Brown Jug, we cycled up Adelaide Street to the McDermot Avenue bi-directional bike lane, then across Main Street to Stephen Juba Park, along Waterfront Drive.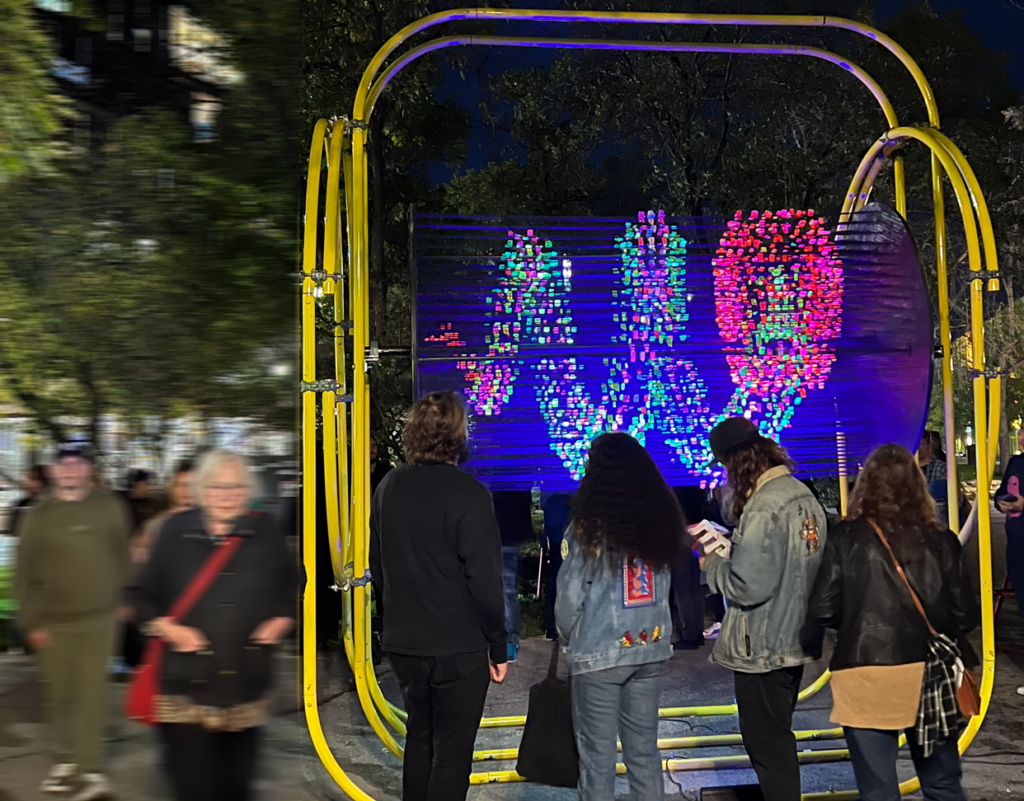 There were two really great installations along the bike and walking path through Stephen Juba Park. The first we saw was Kasuri, located near the Mere Hotel and created by Takashhi Iwasaki & Joe Kalturnyk. This was a fun, interactive light exhibit, where viewers could turn wheels at the side, which made central pieces move and float, like shimmering blue and pink helix.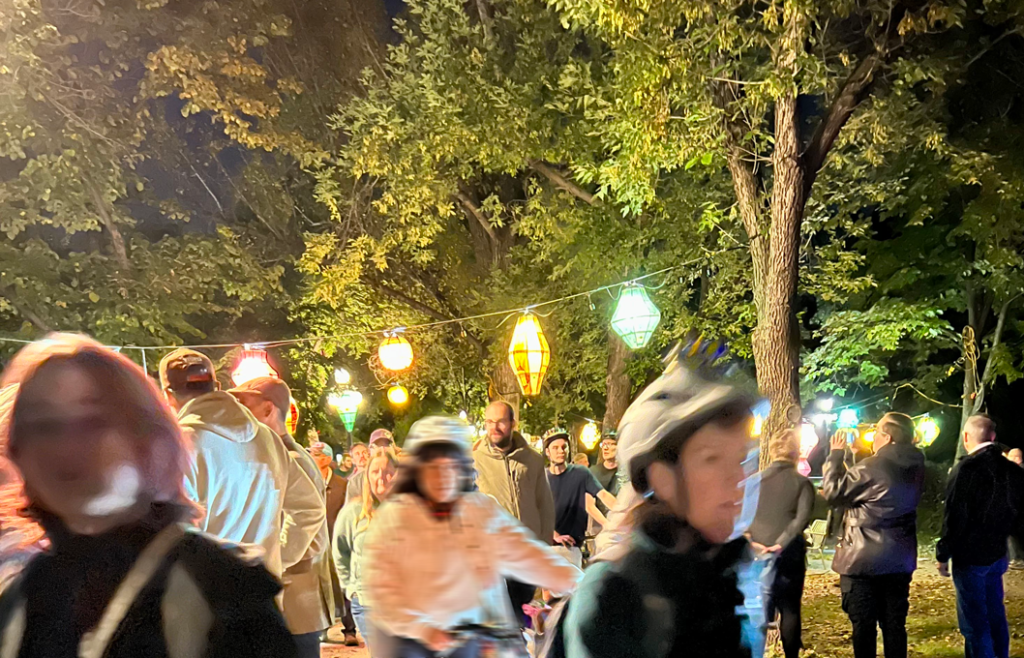 Our next stop was Elucida, created by Biom Lab. Elucida resembled beautiful, colourful patio lanterns strung between the large trees in the park. This effect was emphasized by a group that had set up patio chairs and were hanging out, occasionally chatting with passers by that they knew from the mass of people walking through.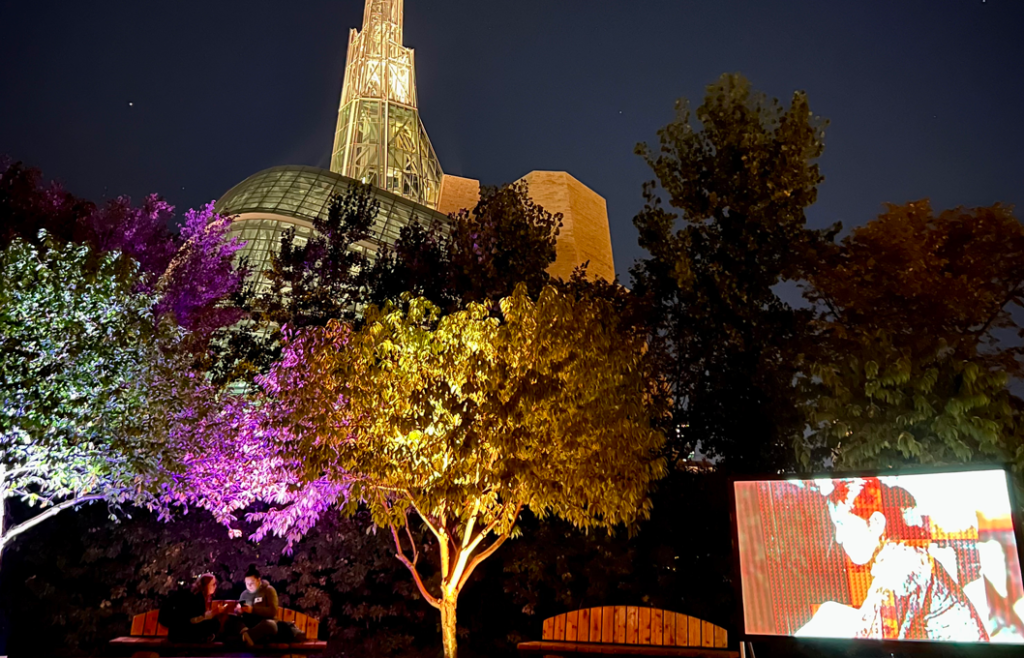 We walked our bikes out from the thick of people and managed to get a nice little ride along the fenced bike path that leads under the Esplanade Riel Bridge. We stopped at the foot of the bridge, behind the Canadian Museum for Human Rights, to take in Ikuma by Geronimo Inutiq, presented by the Winnipeg Art Gallery. Ikuma from Inuktitut translates to flame, fire, or spark, and this audiovisual program was fascinating to watch and listen to.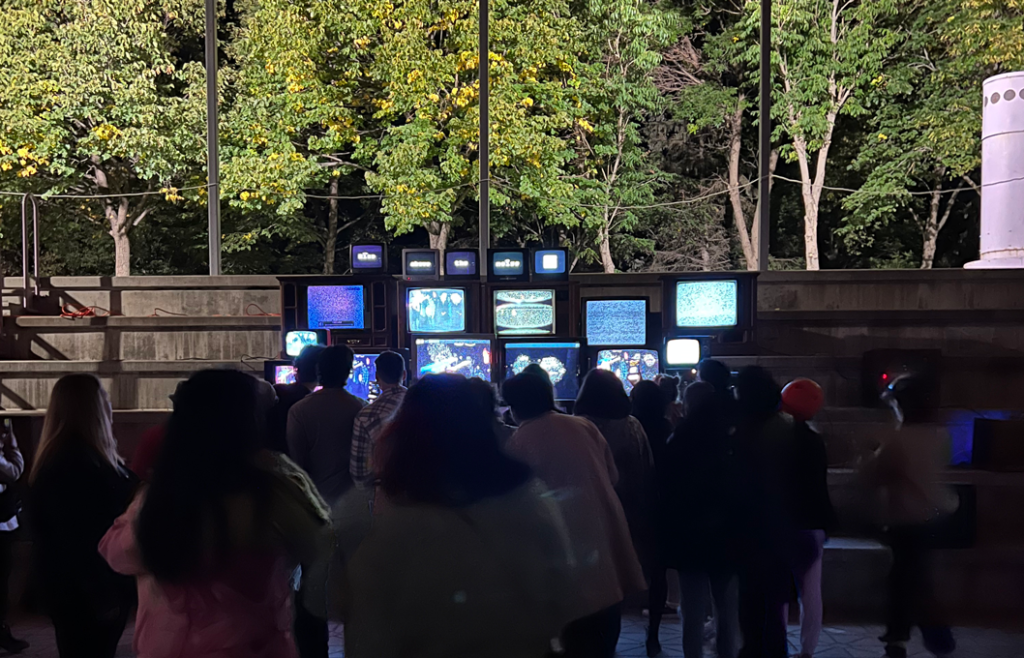 There were many different installations and events taking place at The Forks for Nuit Blanche, and we checked out three of them. Homesick Angels by Joshua Banman, located at the CN Stage, was an interactive exhibit where the audience was projected onto a bank of vintage television sets, becoming angels with coloured halos, laser eyes, and flames in their hands. It was mesmerizing to watch and play with, as well as a little eerie and creepy due to the classical music playing softly at the site.
We also saw Renaissance of Memory by Nayden, set up on the 5th floor of the parkade. With digital projections as well as little vignettes of tables, toys, and televisions dotted throughout the space, this was a fun piece to wander around and explore while contemplating memory, nostalgia, and sentimental longing for childhood.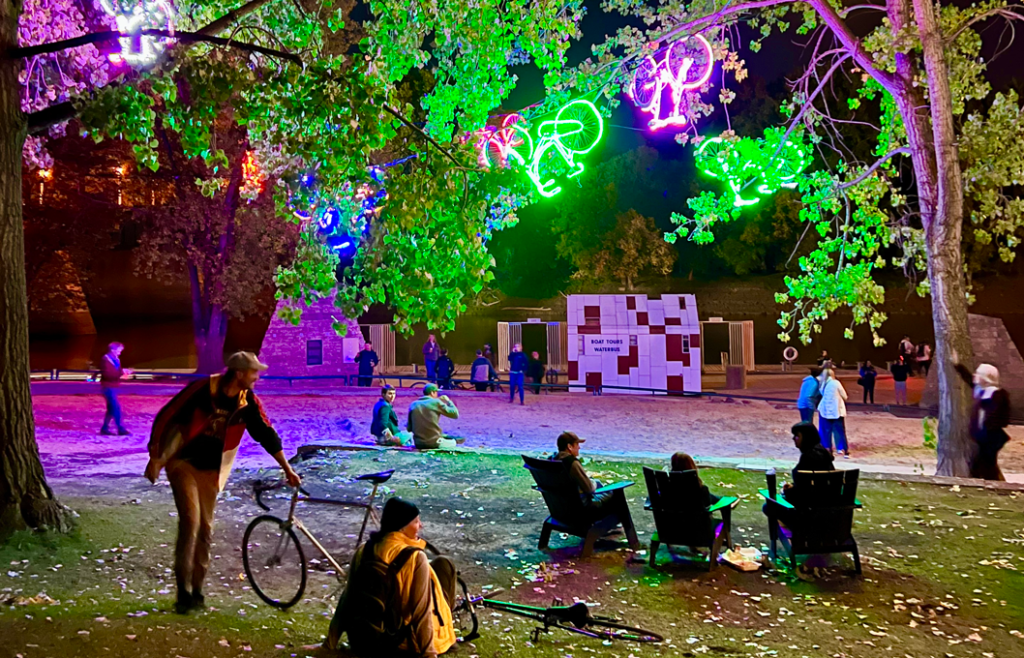 Our final stop at the Forks was to see Bikes, Lights, Nights by Sputnik Architecture with bikes from the Plain Bicycle Project. The project created an upside-down world of suspended, multicolour, lit-up bicycles high in the tree canopy of the Forks Patio (to the left of the harbour, as you face the river). It was truly magical to see! This installation will run until the end of Culture Days, on October 16, so there is still some time to catch it!
From The Forks, we zipped along the bike path that leads to Assiniboine Avenue, taking the bi-directional protected bike lane on Garry Street back to the Exchange District.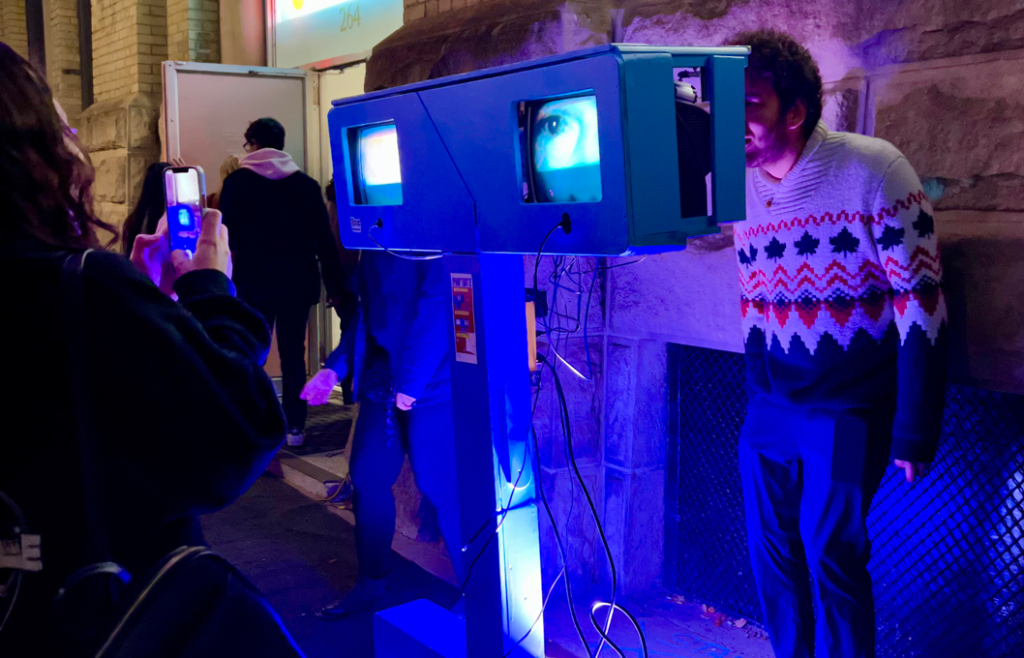 To say the Exchange was packed would truly be an understatement! We explored two exhibits along McDermot. Panotptibot II, by Toxic, captured live images from audience participants, projecting them into the walls of a party in the building behind.
Up the street from Panoptibot II, we visited Pop of Art at Tara Davis Studio Boutique, which featured whimsical window installations by Kami Goertz and Darci Madlung that glowed delightfully in black light. This window installation will remain up for October First Fridays on Oct 7.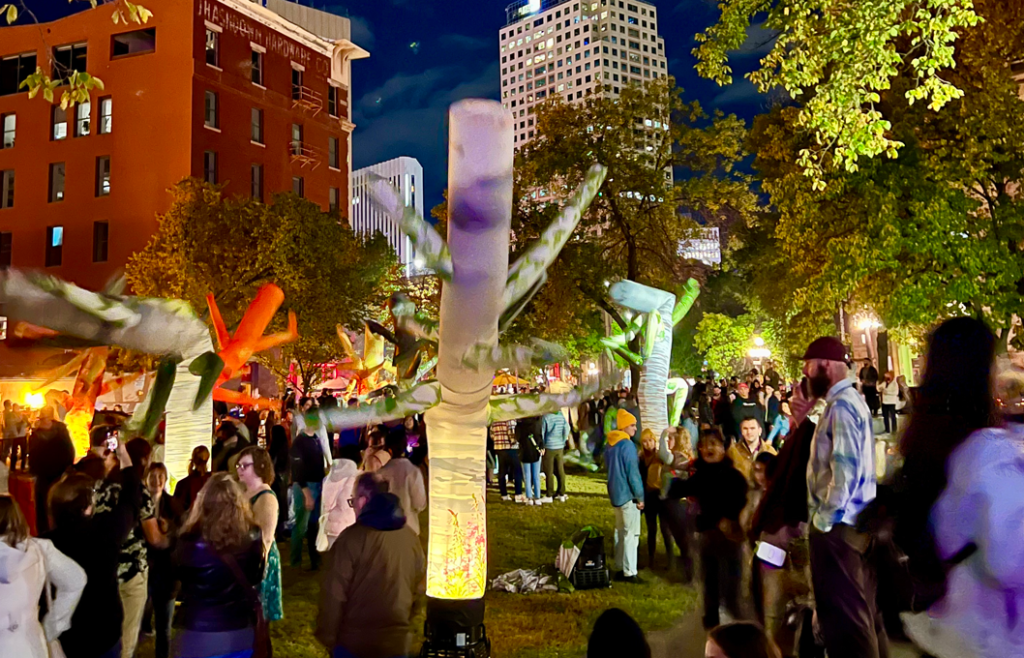 We walked our bikes into the sea of people congregating in the area around the Cube to visit the fun, wavy, dancing trees of Firecycle, by Jonathan S. Green. These will be out until Wed Oct 5th at 6 pm, so definitely go to see them if you can!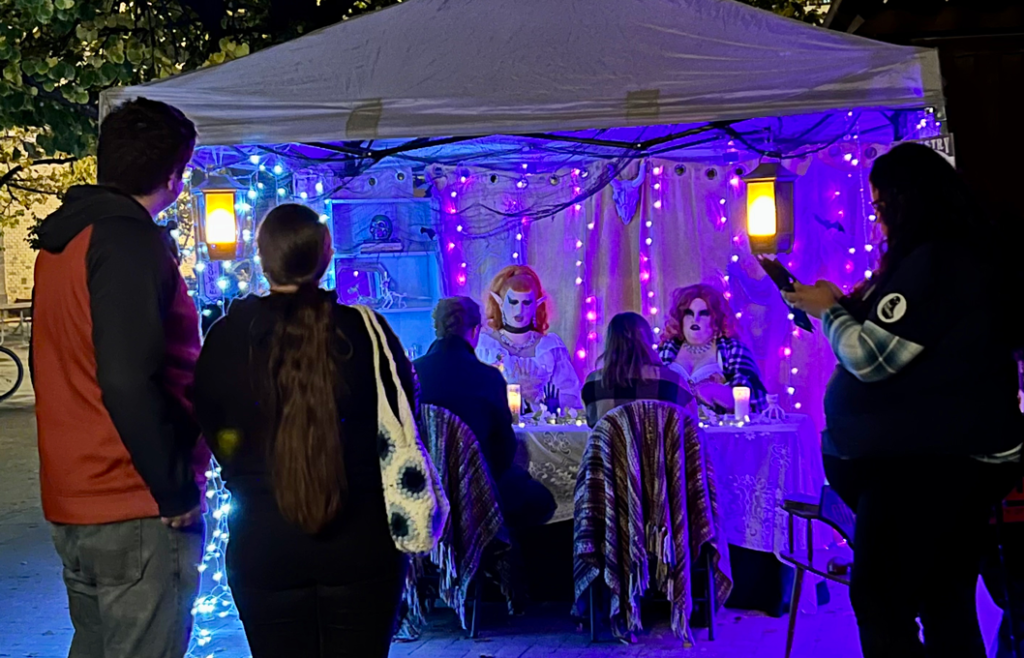 We saw The Fortune Parlour set up in Bijou Park, where fabulous drag queens Rose Mortel and Sylv told a huge lineup of folks their fortunes in a piece sponsored by International Day of Pink.
Behind the Cube, we discovered Naeda by Casey Koyczan, an interactive video installation that shows pixelated versions of participants and reveals their colourful auras, as they move and dance. My favourite was watching a person do the running man and seeing how that translated on the screen!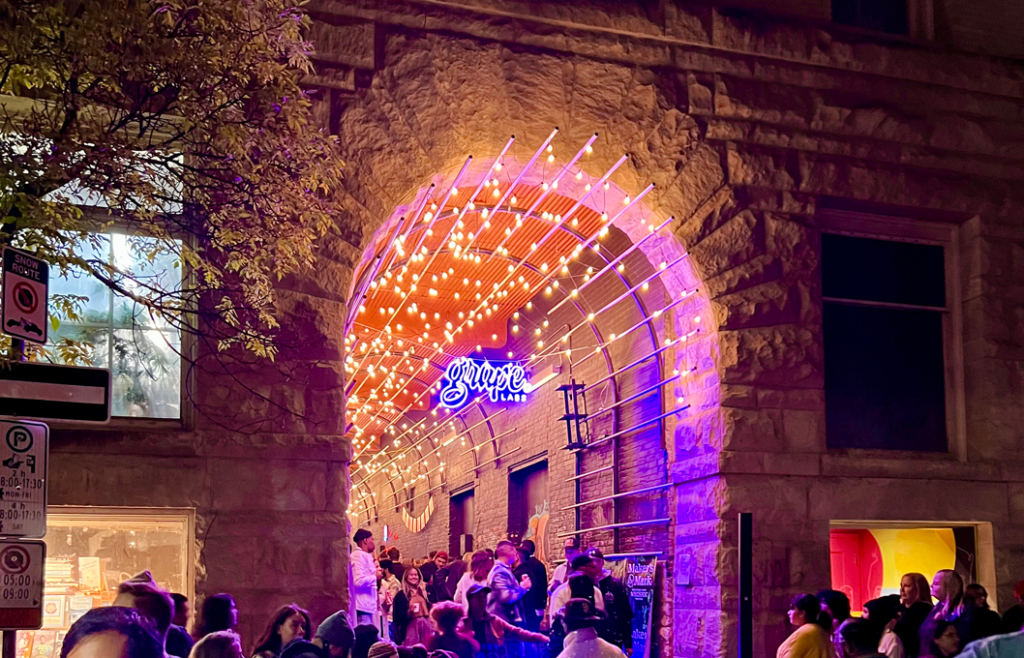 We finished off our night with a visit to Grape Lab Lounge and Market.  Music pumped out of the dray way of Artspace, played by a roster of local celeb DJs, which included LMAO, Kilusan and Anthony OKS as people spilled out of the Lounge and into the Market of local makers set up along the street.  Truly THE place to be at the end of the night to grab a cocktail from sponsor Makers Mark and dance on the street in the heart of Winnipeg!
Living in the heart of the city makes participating in cultural events a breeze, whether you walk or bike. If you've never been to Nuit Blanche, mark it in your calendar NOW – the next date will be Saturday, September 23, 2023!